Wall décor does not have to be limited to paintings and pictures. There are a variety of home décor wall accessories that can liven up a room or garden and offer a more unique look than a standard framed print.
Statue.com is proud to offer an extensive collection of wall décor accessories.
Friezes: These relief sculptures provide an elegant look and can serve as the signature piece to a room.
Brackets, Corbels, and Shelves: These pieces are great for holding statues, plants, or small framed pictures.
Sconces: Great for holding flowers or candles.
Niches: One of the most elegant and traditional wall décor methods for featuring a signature statue or vase.
Wall Plaques: A large selection of wall décor for both the home and garden.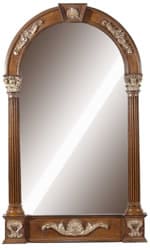 Mirrors: The essential home wall décor item for making a room look bigger. Choose from hundreds of styles in our Mirror Gallery.
Wall Fountains: One of the most unique ways to dress up the wall in a garden or patio.