Wall-mounted fountains, free-standing wall fountains and alcove fountains.
Click here to shop our entire line of water fountains.
Wall Mounted Fountains are an excellent choice for adding focus to an otherwise drab wall, or perfect for dressing up areas with limited floor space. They add character while offering a calming serenity and added relaxation. Statue.com's online gallery of wall fountains offers many unique styles and makes. Whether your taste calls for a contemporary piece or a more traditional-style fountain, Statue.com has a wall fountain for you. The majority of these water fountains are available for indoor and outdoor use.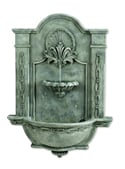 Many of our wall-mounted fountains are cast in a fiber resin compound, which makes them both durable and light weight - an ideal combination for installation considerations unique to wall-mounted fountains. Each comes self-contained with a ppropriate hosing, simple installation instructions and its own pump engineered with the cord coming out the back so it can be conspicuously routed to a power source .
Alcove and Free Standing Wall Fountains are designed to fit up against a wall or create their own alcove look. While sculptural fountains are often designed to be enjoyed from every angle, certain settings require a different arrangement. On a patio or courtyard where center stage may be reserved for dining and entertaining functions, a permanent installation of a commanding water feature may be prohibitive.

Consider, then, a water feature that can be placed against a wall, or within an alcove. Unlike the wall-mounted water features, these fountains are self-supporting and are generally larger than the hanging versions.

Again, our collections offer a variety of style choices, from Bacchus to Sea Horses, classical to avant-garde!