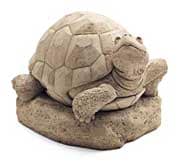 Shop our selection in the Turtle Statues category.
Turtle statues are a popular choice for accenting a garden or patio. Turtles ancestry dates back 200 million years ago, surviving the demise of the dinosaurs. Perhaps this view as a survivor symbolizes the turtle more than anything else. The popular tale of the tortoise and the hare has helped position the turtle as a committed animal that just goes about the task at hand to the best of his ability.
As a member of the reptile family, turtles can be found all over the world and they have been used by man as a source of food, a fashion symbol, a pet, and an inspiration for artwork and writing.
At Statue.com, we find that turtle statues and fountains are very popular for accenting a garden and are proud to carry an extensive line for your review.