Lamps featuring Tiffany Style Lamps
---
The Statue.com gallery of lamps is proud to feature an extensive line of stained glass Tiffany style lamps as well other sculptural lighting. These lamps will turn your everyday lighting needs into a unique conversation piece.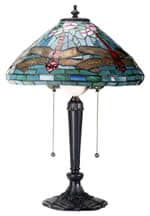 Of course, the highlights of this gallery are the stained glass lamps inspired by the Tiffany Studios. The development of the light bulb in 1878 by Thomas Edison and the filament in 1879, inspired Tiffany to begin creating his signature lamps. Thrilled that his stained glass no longer depended on the sun for illumination, Tiffany perfected the "copper foil" method of joining pieces of stained glass together. This painstaking technique has been revived by the artisans in order to ensure a completely authentic reproduction. The incomparable elegance of these lamps is as irresistible today as it was in 1879 when Louis Comfort Tiffany collaborated with Thomas Edison on the lighting of the first home lamps.
Click here to enter our gallery of sculptural lights featuring these Tiffany style lamps.