Stone Fountains - Cast Stone
---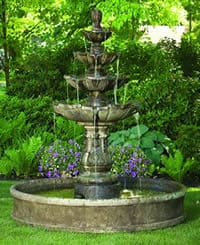 Shop our entire line of cast stone fountains.
Cast Stone fountains are a popular choice for outdoor garden accessories because they capture the beauty of artistic sculpture while providing the gentle sounds of flowing water. The cast stone material creates extremely durable fountains that stand the test of time even in harsh outdoor environments.
Since the vast majority of our fountains at Statue.com are cast stone fountains, we do not have a gallery dedicated specifically to them. Rather, you can browse through all of our galleries and find a huge selection from which to choose.
Our cast stone fountain selection ranges from contemporary pieces to classical works like a Hebe fountain.