Resin Statues and Sculptures
---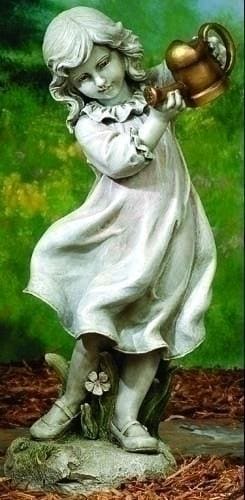 Relatively new to the world of statuary is the art of casting statues with fiberglass resin, a very durable synthetic polymer. Resin statues are able to retain all of the detail of the original works while offering many other benefits. They weigh less than cast-stone statues and, therefore, cost less to ship. They have a greater strength than some of the other materials that can be cast. And, the resin statues are suitable for indoor and outdoor use.
There is also a considerable amount of flexibility in regards to the finishing options for cast resin sculptures. In fact resin statues can be created to mimic the look of ancient stone, marble, bronze, or porcelain sculptures. Hand-painted poly-chrome finishes can even be achieved.
It is important to note that while resin statues and sculpture do well in rain and can handle temperatures above freezing, they are not as resistant to harsh winter conditions. The expansion and contraction of ice in crevices may crack the piece and it is, therefore, recommended that the sculpture be brought inside when freezing temperatures threaten.
Statue.com is proud to offer an extensive selection of resin statues and sculptures. For the most part, these resin works are scattered around in our various galleries.