Religious Statues and Outdoor Religious Statuary
---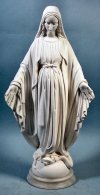 Shop our entire Religious Collection.

Religious statues and other outdoor religious statuary form a large part of our collection at Statue.com. Our religious collection consists primarily of Catholic statues, but you can also find a variety of Buddha Statues and Hindu statues in our Asian Gallery.

Our religious statues for the Christian faith come in a wide variety of styles, sizes, and price ranges. Whether you are looking to decorate a church or simply add a statue to your garden, we have one of the largest selections in the world from which to choose.

You will find numerous statues of the Virgin Mary and Jesus, but our collection also contains reproductions of famous Michelangelo Sculptures like The Creation of Adam, The Pieta, and Moses. We also have pieces representing Leonardo de Vinci's depiction of the Last Supper. On a more modern note, there are works like Auguste Rodin's The Hand of God.