Pond Fountains, Pool Fountains and Water Features

Shop our entire selection of Fountains .
Piped statuary and fountain tops for ponds or pools.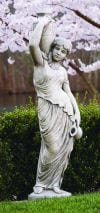 If your landscaping dreams include a water feature for which you envision classical figures pouring water into an elegant pool, or a charming turtle, a pair of long-legged herons, or some other whimsical character spewing gently arched streams of water into a pond, Statue.com has many selections of piped statuary and fountain tops from which to make a selection. As with the rest of our fountain sub-categories, this collection also offers a wide range of styles and casting mediums.
Bring the pleasure of aquatic life to your environment with a self-contained fountain or a water feature for a pond or pool.
Whether you choose fanciful mermaids, gracefully leaping dolphins, funny spitting frogs, or lovely urn-bearing maidens, there is likely something among the collection in Statue.com's Fountain Tops and Piped Statuary gallery to complement your theme.