Mother and Child Statue and other Child Statues
---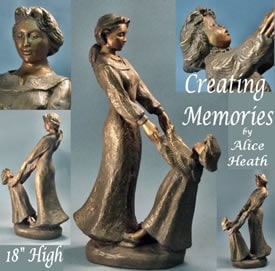 Shop our Family Gallery that features mother and child statues.
Perhaps there is no more beautiful bond than that of mother and child. Fortunately, the world of sculpture has recognized this and provided us with a great selection of statues reflecting a mother and child. We also have a full line of child statues for the home or garden in our gallery dedicated to children's sculptures.
In our Family and Parenthood Statue Gallery you will find dozens of statues not only depicting mother and child, but also father and child, pregnant mother, and the love of a family. Styles range from classical to extremely contemporary and even contain those wildly unique pieces from Sigrid Herr.