Marble Statues and Sculptures
---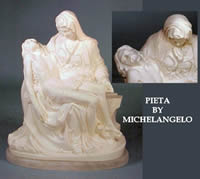 There are several different types of marble and marble combinations used by sculptors when creating their masterpieces. A lot of today's marble statues are not created with the same methods that the original artists employed. In the early times, chiseling a piece from a large block of solid marble was the only method sculptors had for creating statues and sculptures. At the time, the need for mass production was not even a concept. Sculptors would simply create one piece of work at a time. Over the years, the statuary industry has developed operating processes whereby they can create materials that will fill in molds in what is called the casting process..
One of these casting methods utilizes bonded Carrara marble that features a non-porous material blend of white marble powders and resin composites. Marble powder is mixed together with resins and binding agents to create solid cast statues. Most of the bonded marble pieces at Statue.com are marble statues imported from Italy that come from the Egregia statuary or the Isac collection of sculptures by the renowned Santini family. These statues are made from white marble or alabaster from Northern Italy. This marble along with the Italian highly regarded method of producing sculpture replicates the texture and appearance of hand carved works by retaining the finest details and characteristics of the originals.
This material is still 90% marble or alabaster, but the fact that it is created using marble powder, resins, and binding agents earns it the name "bonded marble." This strong material is water and weather resistant and will not yellow over time. It doesn't have bubbles, will not crack, and can be washed with most cleaning agents.
Statue.com offers many different types of marble statues and sculptures from animals to ancient Greek gods and goddesses.