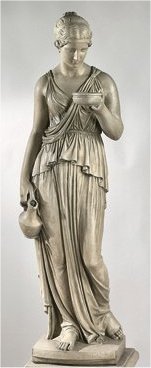 Enter our gallery of Life Size Statues
For those looking for that signature piece for their home or garden, there may be nothing more elegant than a life size statue or sculpture from Statue.com.
Some of the most common subjects of these life size statues are the Greek and Roan gods and goddesses including Cupid, Hercules, Hebe, Mercury, Neptune, and Venus. Of course, Venus remains one of the most popular choices and Statue.com is proud to offer numerous styles including piped fountain varieties.
Other life size statues are actual replicas of famous sculptures like Michelangelo's David, Rodin's Eternal Spring, Botticelli's Birth of Venus, and Canova's Three Graces. Works such as The Bather, the Four Seasons, and the more contemporary "Manuela in a Deck Chair" are also very popular.
Many of these pieces are actually internally piped and functional fountains. Aside from Venus, mermaids and nudes are very popular for adding a little splash around one's pool.
For Christmas, you will enjoy our selection of life size Santa statues in our Holiday Gallery. There is also a large selection of life size animal statues and life size dog statues in our Animal Gallery.