Landscape Fountains and Water Features

View our entire line of garden fountains.
Enhance your landscape environment with a beautiful garden fountain.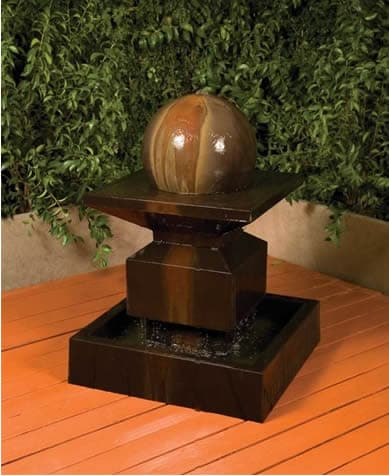 What landscape wouldn't be favorably affected by a well-placed fountain or water feature? Regardless of how simple, clean and down to earth; or complex, lavish and ornate that you envision the ideal landscape, the addition of flowing, spilling, trickling or even cascading water can only be a landscape enhancement.

Turn your landscape into a magnificent formal garden room for entertaining many guests, with the installation of a landscape fountain or water feature as a bold focal point of merriment and celebration.

Or perhaps your landscape will evolve into a private retreat for you and yours, with the soothing sights and sounds of water-in-motion as a quiet statement of calm and serenity.

A self-contained fountain may be the best choice for your setting, in which case Statue.com has among the largest selection available for on-line purchase, offering a wide range of styles, sizes, casting mediums and price-points. Start your search at our Garden Fountains category, which is divided up into sub-categories of price ranges.

If your plans require a water feature actually carved into your landscape, we can offer many component parts to help you make this dream a reality. From pond kits and pre-formed pools and spills, to piped statuary in bronze, cast stone or durable resin, please browse our fountain galleries to find just what you need to bring the audio/visual pleasures of a water feature to your landscape.