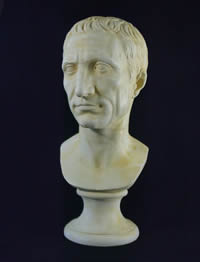 View our entire collection of Greek and Roman busts.
Julius Caesar was a great statesman and a brilliant military leader that expanded the Roman empire and laid the foundation of the Roman imperial system. After eliminating Rome of its Dictators, he formed the Triumvirate with Pompei and Crassus and instituted numerous reforms that would ensure the success and prosperity of Rome for centuries to come. He was assassinated in 44 B.C., but his heir Caesar Augustus took control and established the Roman Empire as one of the greatest in the history of the world.
Statue.com is proud to offer 4 reproductions of gallery quality Julius Caesar busts made from bonded carrara marble. Each one will add a touch of history to any home or office.