Browse our galleries of Fountains .
Fountains and water features for interior applications - Bring the Garden indoors with soothing sound of a fountain.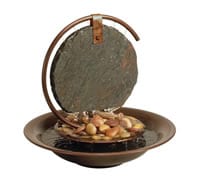 A fountain or water feature in a formal garden may seem as natural an element as if it had grown there, but an interior "landscape" can be beautifully enhanced by the esthetics of flowing, spilling or cascading water as well. In most cases, space permitting, an outdoor fountain can be used inside, although the converse is not always true. Fountains exclusive to indoor use have some unique characteristics.
Indoor fountains can be found in a wide range of styles and configurations, your choice depending on style and size of the room in which they'll be placed. Whereas a formal or traditional home, hotel or restaurant would be better suited with a fountain incorporating traditional forms and classical statuary, a modern interior may demand an unconventional means of bringing the dynamic of flowing water to the setting.
Our gallery of Contemporary Fountains is the place to start your search if "modern" describes your tastes.
For other choices for indoor fountains and water features, our gallery of Resin and Lightweight Fountains , the fountain sub-category called Tabletop/Desktop Fountains , or our collection of Wall-Mounted and Alcove Fountains , may hold the answers to your desire to include a fountain or water feature for your interior space.