Browse our galleries of Fountains.
Fountains and Cast Stone Urns and Statuary
Henri Studio is the world's largest designer and manufacturer of original cast stone fountains and statuary. Through a balanced blend of advanced production techniques and Old World tradition, Henri Studio has grown to become the industry leader in cast stone garden decor. Traditional or contemporary, large estate size or small tabletop size, subtle or bold, indoor or outdoor - a fountain or water feature from the Henri Studio will be a treasured enhancement to your home or garden..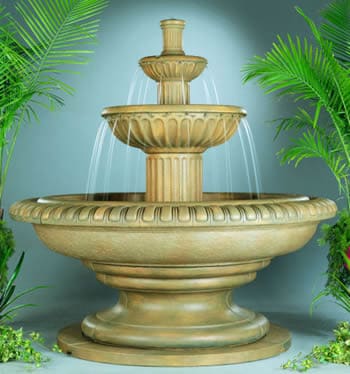 Henri Studio's late founder, Eneri Prosperi, emigrated from Bagni di Lucca in Italy's renowned Lucca region, famous for centuries of cast and marble sculpture. His traditional skills and artisan's wisdom have remained the foundation of this family-owned firm for four decades. His vision and presence continue to inspire the work at Henri Studio .
For many of these esteemed fountains, Statue.com is pleased to offer your choice of:
Finishes for Henri Studio Products
Henri Studio offers over thirty beautiful finishes to enhance our cast stone fountains, statuary, ornaments, birdbaths and planters. This extraordinary range of elegant hues reveals the true character and detail of every Henri sculpture. Henri finishes are hand applied and extremely durable, and will weather gracefully through years of enjoyment.
Henri Finishes are in four basic categories: Natural, unfinished cast stone; Finish, our popular, standard hand-rubbed antiques; Hi-Tone, custom multi-toned finishes uniquely designed for select Henri items; and Old World, rich stains and complex antiques with a classic European flavor.
In the spirit of Eneri Prosperi, Henri Studio continues to create original designs, attractive finishes, and beautiful, affordable products of the highest quality. Henri's original sculpted and internationally copyrighted creations in fountains, statuary, birdbaths, planters and garden ornaments are renowned around the globe. The Henri name is synonymous with quality and originality to thousands of garden retailers and consumers worldwide, and STATUE.COM is proud to offer the Henri line to our discriminating patrons.