Golf Statues and Sports Figurines
---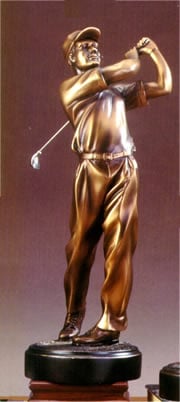 Shop our Gallery of sport statues now .
Given the popularity of golf statues, we at Statue.com decided to dedicate an entire gallery to the game that inspired the phrase "a good walk spoiled."
In this gallery, you will find a number of different golf statues. Form historic to contemporary, there are styles to meet any decorating need. Statues feature both men and women golfers and are sculpted in both still and action poses.
The majority of the pieces are cast in stone or a cold cast designer resin that is coated with a multi-bronze finish that gives the statues a very rich look. Numerous price points are available to meet almost any budget.
In addition to the statues and figurines, we offer a nice selection golf themed bookends, lamps, and fountains. One particular tabletop fountain shows a golf ball sitting at the bottom of the waterfall with a golfer reflecting on whether or not to take the penalty stroke? The familiar comic scene is delightfully depicted as water cascades down the fall to fill the pond below the flag-topped green.