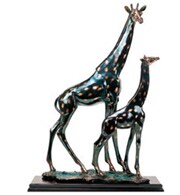 Shop our selection in Giraffe Statues
Whether you like them for their symbolism and just admire their beauty, giraffe statues are a popular choice for decorating home and office. As the tallest of all mammals, the giraffe can see for great distances. This combined with its great eyesight has made it a symbol for foresight and vision.
Combined with its elegant, albeit unconventional, beauty, a giraffe statue can be an excellent accessory or signature piece to a room.
Statue.com is proud to offer a nice selection of giraffe sculpture and statues in our Giraffe Gallery.

Please shop our selection in the Giraffe Statues by clicking here.