Shop our Gallery of Garden Fountains.
Include a fountain in your landscaping or garden room plans.
Garden fountains are unique accessories that compliment any outdoor setting. Whether a traditional stone cherub fits your style or a more contemporary piece complements your garden, Statue.com's online gallery of garden fountains offers many styles, sizes and prices to appeal to anyone's taste, location, or budget. The gentle sounds generated by these garden fountains are sure to relax you as you unwind from a stress-filled day. Your garden will be transformed into a tranquil paradise that provides the perfect escape from the hustle and bustle of every day life.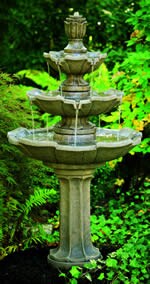 Statue.com is proud to offer a very extensive collection of outdoor garden fountains. Some of our most revered figurative garden fountains feature Children, Angels and Cherubs, Animals, Saints and other religious figures. Fantasy characters, like Gargoyles and Fairies, continue to be very popular choices.
Our garden fountain collection also includes abstract sculptural pieces, for contemporary tastes, created by artists who choose to incorporate the dynamic of flowing water within the design to enhance an artistic statement.
We also have a wide variety of large estate sized fountains, tiered fountains, and wishing well fountains that can serve as the signature piece to your garden or patio. For those with a quaint patio, we have decorative wall fountains that provide the benefits of a fountain without requiring the space.
Of course the category "Garden Fountains" encompasses a delightfully diverse range of choices, spanning countless styles, sizes and mediums. Our Garden Fountains are arranged in sub-categories of price-ranges, so if you need to begin your search with a budget in mind, don't feel your choices are limited!