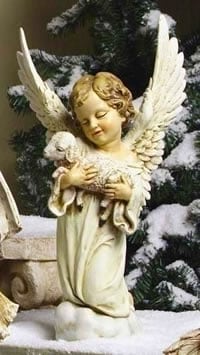 For the most part, figurines are simple small versions of statues. As such, the sculpture galleries at Statue.com are loaded with what many people may consider to be figurines. Of course, in today's world, people often associate figurines with very small statues often made out of porcelain or glass. They are often very cute in nature like Precious Moments or the Hummel Collection.
Although we do not carry these types of figurines at Statue.com, people still consider many of our products to be figurines. Five of our galleries probably generate the most interest in figurines.
The first of these is our animal gallery. It is full of everything from real life cat and dog figurines to more symbolic pieces like elephant figurines.
The next most popular gallery is our mythical gallery which features the every popular dragon figurines as well as wizards, gargoyles, and mermaids among others.
Next in line would be our angels and cherubs gallery. The angel has proven to be inspiration for everything from artistic fountains to symbolic sculpture. You'll find plenty of angel figurines in this gallery.
Fairy figurines are another very popular line and you'll find everything from fairy lamps to the line of Cicely Mary Barker line of Flower Fairies in this gallery.
Last but not least are sports figurines and golf figurines in particular. We have a large selection in our sports statue gallery.