Easter Decorations: Statues and Sculptures
---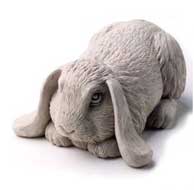 Shop Easter statues in our Holiday Collection.
Despite the fact that Easter is possibly the most religious holiday in the Christian world, the Easter Bunny actually garners a lot of attention on this holiday. As such, Easter decorations featuring bunnies and rabbits have become very popular.
Interestingly, many aspects of the Easter celebration actually find their origin in ancient pagan festival of Eastre. The ancient Saxons celebrated the return of spring by honoring, Eastre, the goddess of fertility whose earth symbal was the bunny rabbit. When Christian missionaries were converting these pagans, they realized the need to integrate their holiday into the Christian calendar and, consequently, integrated the Eastre celebration with the Christian observance of the resurrection of Christ.
The first recorded history of the Easter Bunny is credited to the Germans in about 1500 and they are also responsible for the first edible Easter bunnies. However, it was the Pennsylvania Dutch that popularized the Easter bunny in America during the 1700's. "Oschter Haws" was eagerly anticipated by children for the treats and colored eggs that he would leave.
Statue.com has put together an extensive collection of Easter bunny decorations in our Holiday Gallery for your home and garden.
For more religious oriented Easter decorations, you may want to consider a statue from our Gallery of Religious Statues.