Eagle Statues and Sculptures
---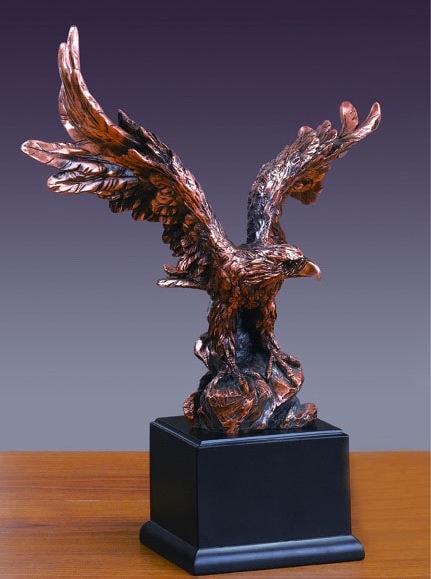 Shop our selection of Eagle Statues.

A magnificent creature that rules the sky, the Eagle symbolizes power, might, and exquisiteness. In particular, the Bald Eagle was selected as emblem of the United States of America because of its long life, great strength, and majestic look. More than that, the bald eagle is the ultimate symbol of freedom. It lives high in the mountains, perches upon high trees, and with a dominating wingspan up to 90", is notorious for soaring across the sky in a most beautiful manner.

Surrounded by great debate, the eagle was chosen as a symbol for the country in 1782 and was officially adopted as the seal of the United States in 1787. This seal shows a wide-spread eagle that has a shield with thirteen red and white stripes and a blue field of thirteen stars. In his beak he carries a scroll inscribed with the motto: "E Pluribus Unum" while his right talon holds an olive branch and his left thirteen arrows.

Statue.com is proud to offer a large selection of eagle statues ranging from elegant bronze pieces featuring a soaring eagle to realistic sculptures of an eagle head.