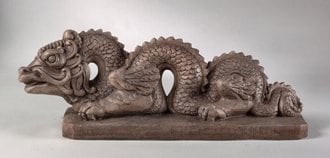 Shop dragon statues in our store.
Since the dawn of man, mythical creatures have caused fear, provided entertainment, and heightened curiosity. Even those none of these creatures actually existed, they populate the world of sculpture and are an extremely popular gallery in our site.
From fiery dragon sculptures and scary garden gargoyle statues to the more lighthearted statuary of mermaids and unicorns, our gallery of mythical statues has something for everyone.
Mythical creatures were used in many past cultures to explain why things happened. For example, dragons were believed to have been the cause of rain clouds, thunder, and lightning.
Statue.com offers an exquisite collection of statues and sculptures idolizing dragons.