Dog Statues and Dog Sculptures
---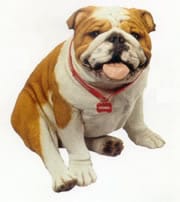 Browse our selection in the Dog Statues section of our Animal Gallery.
Dog Statues and sculptures represent one of the most popular sections of our Animal Gallery.
Known over the years as hunters, herders, guards and companions, dogs have played a significant role in man's society. The first appearance of the domestic dog dates back 20,000 years ago when man first realized that the dog could be a key tool during the hunt, whether for sniffing a trail, pointing a target, or flushing a cozy. As man's survival needs changed and evolved to life, as we know it today, the dog's role evolved as well.
Today, "Man's Best Friend" is a loyal companion awaiting the next command of their master. It has even been stated in medical journals that the companionship of a dog can contribute to their owners' physical and psychological well-being. As well, canines are trained to assist the handicap, to help the law officials detect drug trafficking, and to sniff out concealed bombs and weapons.
Statue.com honors the dog by offering the largest selection of dog statues on the Internet. With over 200 dog statues from which to choose, there are realistic sculptures for just about every popular breed of dog in the US. Of course we also offer less realistic depictions of man's best friend as well as regional pieces like Asian Fu Dogs and Egyptian Anubis. This gallery also contains a large selection of wolf statues.