Deer Sculptures and Moose Statues
---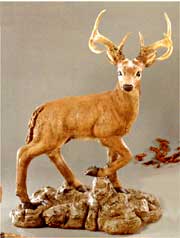 Shop our Deer Sculpture and Moose Statues.
Recognized as one of the most gentle of all creatures, the deer has created its place as one of America's favorite ways to decorate their lawn or garden. Of course, the mounted buck also its place in the interior decorating world for those trying to achieve the look of a hunting lodge.
Whatever your need, you are sure to find something in our gallery of deer sculptures and moose statues at Statue.com. We have a large selection of standing and reclining doe statues, buck sculptures, and fawn statuary. There are also a variety of busts and birdbaths from which to choose.
For the more adventurous, we also offer a few moose statues to adorn your home or garden.