Cowboy Statues and Sculptures
---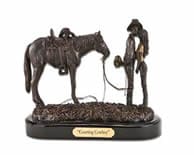 Shop our Cowboy and Western Statues gallery.
Whether you live in Dodge City or Manhattan, cowboy statues can make the perfect accessory to any home or office. Capture the spirit of the people that helped "settle" the prairie, by adorning your room with one of these magnificent pieces.
From the Bronco Buster to the Pony Express, each piece is cast to provide the finest detail available in statuary. There is also a nice selection of cactus themed fountains to add a little authentic feel to your western inspired space.