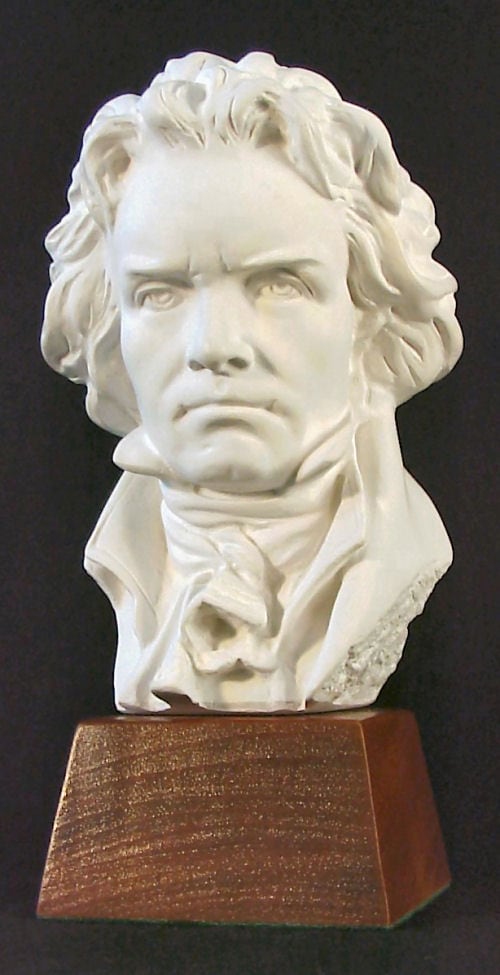 Shop our entire collection of composer busts.
Busts of composers provide a great addition to the room of any musician or person who appreciates good music. They can provide inspiration or just add to the aesthetic appeal of the room. Statue.com offers a wide selection of the world's most famous composers in marble, bronze and plaster.
Mozart busts are one of the most popular items in the bust gallery. This child prodigy still reigns as one of the greatest composers of all time. His graceful music has transcended the generations not just because of his wonderful melodies, but also due the stories that his music tells and the feelings that it conveys. Starting at age 5, he composed over 600 works including symphonies, concertos, chamber music, sonatas, serenades, operas, masses, and more.
If Mozart is not your style, perhaps a Beethoven bust would better suit. An Olympian figure in the history of classical music, his influence on the last 150 years of music has been unequaled. Our Beethoven busts artistically interpret the intensity of a man who transformed the world of music with his eccentricities.
For lovers of Baroque music, there are plenty of busts of Johann Sebastian Bach and George Handel. Or, if you find the Romantic composers more inspirational, you will love our selection of busts of Franz Schubert, Robert Schumann, Gustav Mahler, Felix Mendelssohn, Peter Tschaikovsky, and Richard Wagner.
Adorn that grand piano with one of the world's great pianists like Frederic Chopin, the "Poet of the Piano", or a bust of Franz Liszt, the piano playing showman that made the ladies swoon in the early part of the 19th century.
We also carry busts of the operatic composers Gaicomo Puccini and Guiseppe Verdi.