Decorative Sculpture Pedestals
---

Shop our gallery of decorative sculpture pedestals.
Once you have found a statue to feature in a room, the next thing that you need is a sculpture pedestal to highlight it. Of course, sculpture pedestals are an art form that comes in a wide variety of different styles, sizes, and materials.
Statue.com is proud to offer a huge selection of these decorative pedestals. Many of these pedestal are replicas of shortened Greek, Roman, Egyptian, and French columns while others are much more artistic in nature. For example, Puto with Grapes remains a very popular choice for those looking for something a little different.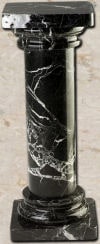 The largest parts of our pedestal collection features cast stone pedestals that mimic the look of marble columns, but we also have a nice selection of fluted wood pedestals from which to choose. All of these pedestals make ideal pieces for featuring a sculpture, a plant, or some other piece of art.
In this gallery, you will also find sections featuring miniature columns, shelf and cabinet pedestals, plant stands, gazebos, and other table pedestals.