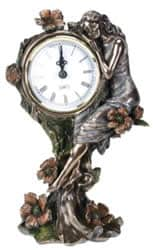 Shop our gallery of decorative clocks and timepieces.
Statue.com home décor online catalog offers many decorative clocks and timepieces to accent any room in your house, your mantel, or your desktop. Our galleries contain some of the world's most unique pieces that not only tell time, but also provide a sculpture to add to the significance of the clock.
From decorative clocks featuring the Venus De Milo to a Lady Justice clock that will help you keep track of your legal bill, we try to offer something for everyone.