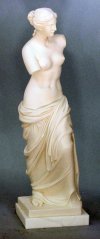 Shop our Classical Gallery now .
The Classical Statue Gallery consists of marble and bronze reproductions of many of the world's most famous statues. You will find a large assortment from the world's greatest sculptors like Michelangelo, Auguste Rodin, Donatello, and Canova.
Our classical sculpture galley offers Venus Statues that includes famous works of art like the Venus de Milo and the Birth of Venus by Boticelli.
Most of the pieces in this gallery are marble statues imported from Italy. Many of them are from the Egregia and Isac collection of sculptures produced by the mastercraftsmen of Italy. These statues are made from white marble and alabaster from the Northern Italian quarry of Carrara. This marble along with the highly regarded method of producing sculpture replicates the texture and appearance of hand carved works by retaining the finest details and characteristics of the originals.
Because of this, you can choose from museum quality reproductions of some of the world's most famous statues including The Statue of David, The Thinker, The Kiss, Three Graces, Eternal Idol, The Discus Thrower, The Nike of Samothrace, Pugilist The Boxer, The Prison, and Caesar Augustus.