Decorative Ceiling Medallions
---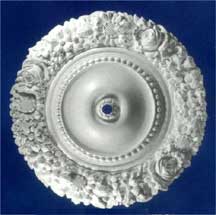 Enter our gallery of decorative ceiling medallions.
One of the easiest ways to transform a room from ordinary to elegant is by using decorative ceiling medallions or rings. Ideal for accentuating the area holding the chandelier, ceiling medallions can also be used for highlighting regular light fixtures or even ceiling fans.
Statue.com is proud to offer an extensive collection of ceiling rings and medallions. Sizes range from 10 inches in diameter to over 45 inches in diameter and all medallions are made from a polymer resin that not only holds it looks over time, but can be painted to match the décor of the room.
Styles range from simple circular patterns to extremely ornate designs.