Catholic Statues and other Catholic Statuary
---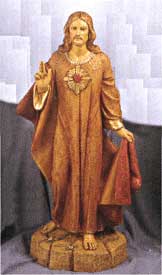 Shop our Religious Statue gallery now.
Catholic statues offer a special way for those of the catholic faith to celebrate the lives and acts of Jesus, Mary, and the number of saints that helped establish the church. Although, the use of statues has come under criticism over the centuries, Catholic doctrine confirms that the use of statues is not a form of Iconoclasm. Rather catholic statues offer a method for honoring these people as well as images that portray the example that Catholics should follow.
On the 1200 year anniversary of the Council of Nicaea, the ecumenical council that dealt with this issue during the trying iconoclastic times of the 8th century, Pope John Paul II wrote:
The believer of today, like the one yesterday, must be helped in his prayer and spiritual life by seeing works that attempt to express the mystery of faith and never hide it. That is why today, as in the past, faith is the necessary inspiration of Church art.

Authentic Christian art is that which, through sensible perception, gives the intuition that the Lord is present in his Church, that the events of salvation history give meaning and orientation to our life, that the glory that is promised us already transforms our existence. Sacred art must tend to offer us a visual synthesis of all dimensions of our faith."

- Pope John Paul II
Statue.com is proud to offer a large selection of Catholic statues and outdoor Catholic statuary for your home or garden. Our collection ranges from classical pieces of the Virgin Mary to the various saints that inspire us during our daily lives.