Bronze Statues and Sculptures
---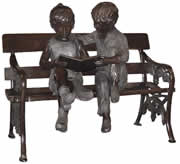 Ideal for casting sophisticated art works, bronze has the ability to flow into all crevices of a cast mold thereby replicating even the most delicate details of statues. In addition, bronze is malleable beneath the graver's tool. This allows the manipulation of the statues so that the artist can capture the emotion or feeling intend by the original sculptor.
Throughout history, bronze was not only used in creating sculptures, but also for making armor, utensils, and other household items. It gained tremendous popularity during the Bronze Age in Europe, since it could be hammered and cast fairly easily. Dating back to the ancient Greeks, bronze was used to produce some of the finest pieces of art such as The Zeus of Artemisium. Learning from the Greeks, the Romans made thousands of bronze statues themselves. They used bronze to create statues of leaders, heroes, and politicians.
During the Renaissance Era, Italian sculptors shaped brilliant bronzes, including Ghiberti's doors to the baptistery of Florence. Among the sculptors from this era are Donatello, Verrocchio, Giovanni Bologna, Pollaiuolo, and Cellini. Major modern sculptors who utilized bronze as a medium include Auguste Rodin (link to auguste-rodin-sculpture.html), Epstein, Brancusi, and Lipchitz.
Statue.com is proud to offer an extensive selection of bronze statues and sculptures. Some of these are categorized specifically by their bronze materials, but many others are scattered around in our various galleries.