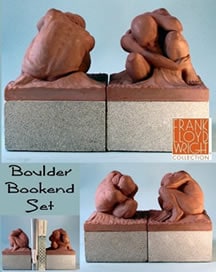 View our gallery of decorative bookends.
Decorative bookends are a unique way to add a little splash to your bookshelves. They also allow you to add this extra flavor without making a huge commitment to the overall theme of the room. Statue.com has a large selection of decorative bookends with some of our more popular being our animal bookends featuring such favorites as the horse, the lion, and the wolf. Our fantasy bookends like our extensive line of dragon bookends and gargoyle bookends also receive a lot of attention.
Our bull and bear bookends make the perfect accessory for the office of financial professionals while our golf bookends satisfy the needs for many other executives.
Made from a variety of materials ranging from resin to marble, you are sure to find something in our store.