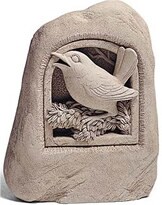 Please browse our selection in the Bird Statues Category.
Our gallery of bird statues represents one of the largest sections in our Animal Gallery. In addition to your traditional songbirds and sparrows, we have entire sections dedicated to other birds.
There is an extensive selection of duck, geese, and swan statues and fountains as well as a similar collection for herons, egrets, and cranes. There is also a section dedicated to penguins, pelicans, and parrots.
In essence, if you are looking for a bird statue, you're likely to find it here. Plus, you'll find a nice selection of garden plaques, decorative thermometers, water fountains, rain gauges, and lamps.