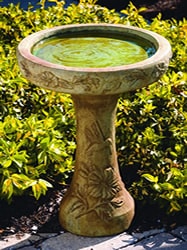 Enter our gallery of bird baths.
With dozens of bird baths to choose from, Statue.com offers something for every gardner. Bird baths promote good health in the bird population by offering a clean source of water in which birds can relax and bathe. They also make the perfect gift for the budding ornithologist in your family. In fact, bird watching currently ranks as one of the top recreational activities of American.
So, whether you have a traditional garden that warrants stone bird bath or a sleek and stylish lawn that demands a more contemporary or bronze piece, you will find many to choose from in our bird bath gallery. Most of our bird baths are made of stone since concrete bird baths tend to decay over time. Stone bird baths are much more durable and are able to resist changes in temperature better.
Decorative bird baths are the key to our line and you'll find everything from fairy bird baths to garden bird baths featuring kittens, grapevines, and even Disney characters. Some of the most popular models are our bird bath sundials.
If you are looking for bird bath fountains, you may want to visit our garden fountains gallery to see if anything inspires you.