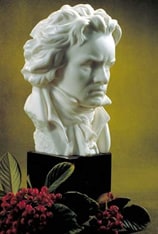 View our entire collection of composer busts.
One of our most popular lines of busts at Statue.com is the Beethoven bust.
Generally regarded as the most influential composer of all time, he transitioned music from the Classical era to the Romantic era and is claimed by both eras as a master. He lived in a time when the political and social structures of society were in upheaval and had to manage the difficult task of pleasing patrons while challenging the conventional wisdom of the time.
Beethoven had a dynamic musical style that brimmed with confidence in man. His music is extremely powerful and reflective of the intense person that he was. This intensity is very evident in the busts modeled after him.
A Beethoven bust makes a great decoration for any music lover. Place it on a grand piano or feature it on a bookshelf. Regardless of where you put it, this bust will be a source of inspiration for all who view it.
Statue.com is proud to offer a nice selection of Beethoven busts in a wide variety or materials, styles, sizes, and price ranges. Please click below to be taken to the Composer Bust gallery.