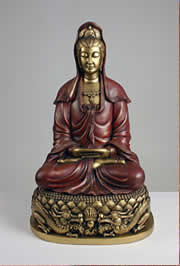 View our Gallery of Asian Statues and Décor.
With its unique blend of rich colors and inspirational themes, Asian décor is a popular choice for decorating one's home or garden. Statue.com is proud to offer a large selection of Asian statues and other accessories for use in creating everything from a Japanese Garden to Chinese themed living room.
In our Gallery of Asian Décor, you will find numerous sculptures representing popular religious figures like Kuan Yin, the Eight Immortals, and Ho Tai as well as a full section dedicated to Buddha statues.
On a less religious theme, we offer various styles of Foo Dog Statues, Oriental men and women, and military inspired pieces like the Kneeling Archer and Samurai.
For the garden, you will love our selection of Asian themed fountains featuring subjects ranging from Buddha to Chinese Dragons. We also have dozens of lanterns and pagodas that will help accessorize any Asian inspired garden.