Angel Statues and Cherub Statues
---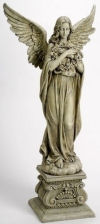 Enter our gallery of angel statues and cherub statues.
According to most dictionaries an "Angel" is defined as a form of spirit, that includes immortals, guardians, guides, attendants, and messengers. The word "Angel" comes from the Greek word "angelos", whose Hebrew translation means "messenger." Therefore, Angels are generally envisioned as an intermediary between mortals and the Divine.
In Western religions, the term "Angel" is used specifically to distinguish benevolent spirits from malevolent spirits or demons. It is implied that this form of spiritual being mediates between the realm of the divine and the world of mortals.
Angels are a popular source of inspiration due to their protective nature. Whether people really believe that they exist or not, it is fun to think that somewhere there are angels watching over us all.
Statue.com offers a large selection of angel statues, figurines, and sculptures for the home and garden. The gallery is broken into down into more traditional angel statues as well as cherub statues featuring angelic little girls and boys. We also offer a number of bronze statues including some with water fountain features.