African Sculptures and Statues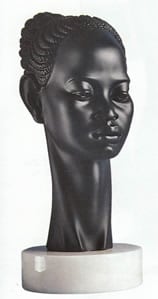 View our entire selection of African sculptures.
Statue.com is proud to offer an extensive line of authentic African sculptures featuring busts of people in their native attire. Examples include the spirited look of the Karo man, the lion like mane of the Maasai warrior, and the ringed neck of the Ndebele woman.
There are also a number of dark bronze and pearl statues that feature African men and women depicting moods and feelings. Manufactured by Austin Productions, these museum quality pieces capture the essence of African beauty.